garanseki; garan ishi

伽藍石
old temple stone
---
A foundation stone from an ancient temple building, which has been reused as a path junction stone (Fig.) or a water basin in a garden. This practice began in tea gardens of the Momoyama period, and was very popular especially in the Meiji and Taishō periods when imitations were often made.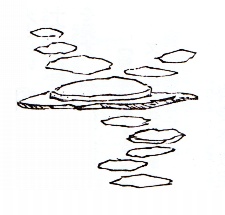 Ishigumisonō yaegakiden
Japanese Garden Dictionary: A Glossary for Japanese Gardens and Their History
(C) 2010 by Ono Kenkichi and Walter Edwards. All rights reserved.