tetsubachigata chōzubachi

鉄鉢形手水鉢
iron basin
---
A crouching water basin illustrated in Tsukiyamateizōden (kōhen). It is made of stone in imitation of the metal bowl used by mendicant priests, and has a Sanskrit letter in front. The one at Sanpōin of Daigoji temple is famous.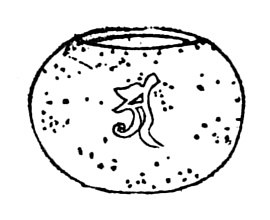 Tsukiyamateizōden (kōhen)
Japanese Garden Dictionary: A Glossary for Japanese Gardens and Their History
(C) 2010 by Ono Kenkichi and Walter Edwards. All rights reserved.